Let's be honest, 2013 was a shit show when it comes to film. There were a few good ones here and there at the beginning, you know, your January's and February's. I guess you could even go as far as to what April had to offer. O, but then came that summer. That summer…
Horrendous pretty accurately describes this summer's filmography as a whole. So many hopes just crushed and violently stuffed down the drain. There was one glimmer of hope in the shape of a big hunkin' Hollywood blockbuster, but I purposively left it off this list to further point out my absolute abhorrence of 2013's summer blockbusters.
Which brings us to Oscar season and the last chance of gaining any personal endearment. I've got to say, not half bad. Sure, some of my most anticipated fell short and getting to the theater for every film turned out to be a bit harder than perviously thought, but the amount of surprise garnered from all these "unknown" films aggressively tipped 2013's scale from worst in years to eh.
I hope you were able to watch some of these this year. Some of you overachievers might have seen all of them. And if you haven't seen any of them, here's hoping my opinion sways at least a couple viewing sessions. To 2014, may you be better and land me a job.
9.  Dead Man Down
Give yourself a pat on the back if you've seen this one. Actually give yourself a pat on the back if you've actually heard of this film. Only making $18 million back on its $30, Dead Man Down is considered a flop, and the reviews for this film will not tell you much different. But still I stand by my pick. The interesting structure is probably what got my attention, the first and last fifteen minutes are all action, shooting, killing, and blowing up things. Yet between each bookend lies a tantalizing drama. Then there's the fact DMD introduced me to French singer/songwriter Zaz. I am very grateful for that.
the directing: Niels Arden Oplev
the writing: J.H. Wyman
the force: Noomi Rapace as "Beatrice"
best moment: Eblouie par la nuit.
8.  About Time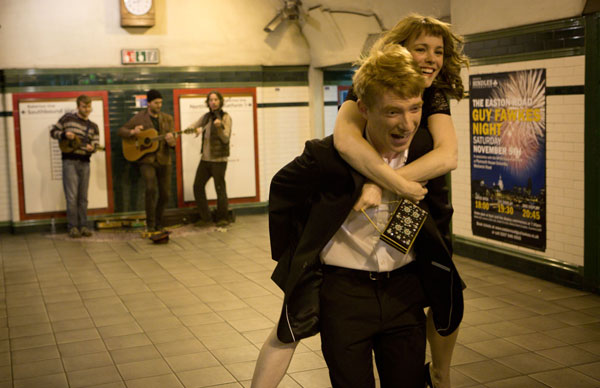 It was impressive what director Richard Curtis was able to pull off with such a ridiculous concept. A romantic film about time travel. About Time's multi-faceted complexity was a sweet surprise for the filmgoer. Tim's (Domhnall Gleeson) relationship with his father (Bill Nighy), his love (Rachel McAdams), and his sister (Lydia Wilson). The ethical complications of time travel and the often pondered idea of fate. Nighy's character deserves some sort of coolest dad award, then there's McAdams easily in the run for perfect wife/human being. I haven't always been a fan of Richard Curtis, many of his films failed to interest me, but now I have at least one to look back on with high regards.
the directing: Richard Curtis
the writing: Richard Curtis
the force: Bill Nighy as "Dad"
best moment: Last time with Dad.
7.  The Spectacular Now
The reception coming out of Sundance was phenomenal for this film. Honestly, I didn't find any negative review or blog post to sway my spirits. However, this kind of press has become the Achilles heel to many films before The Spectacular Now. Remember everyone who called Skyfall the greatest Bond film before it even came out? So overly worrisome me tried to put this film on the back burner with the attempt of somehow trying to make it better… I don't know, my mind doesn't always work. Let's just say it didn't work. I wouldn't say I was counting down the days per se, but you know, the excitement was there. It seemed like my ideal flick: indie drama, young love, adamant character change. And a splash of feel-goody attitude to go around. When the day came and I exited the theater, I was happy to be wrong. Feel-goody was nowhere to be seen, young love was warped love, and the character change took me by complete surprise. The result was something spectacular.
the directing: James Ponsoldt
the writing: Scott Neustadter & Michael H. Weber
the force: Miles Teller as "Sutter"
best moment: "Nobody loves me."
6.  The Secret Life of Walter Mitty
How come critics cease to appreciate feel good movies? I understand comedies, kind of, but there is a generalization about these films making it hard for them to gain any headway. That being said, this is not me making a stand or trying to be different, I genuinely enjoyed The Secret Life of Walter Mitty. I knew from the opening shot I was in for something special. The cinematography was beautiful, the set locations were breathtaking, and the messages were ideas worth striving for. Putting all that aside, Walter Mitty was just a phenomenal family film. Do you know how hard it is for everyone to agree on a movie? The last time my family sat down and took away equal enjoyment was probably Toy Story 3. That's some good company to be in.
the directing: Ben Stiller
the writing: Steve Conrad
the force: Ben Stiller as "Walter Mitty"
best moment: Mitty's daydream fight.
5.  The Wolf of Wall Street

This is by far the craziest film I've seen in a long while. Which is saying a lot considering The Wolf of Wall Street is an adapted film about stock brokers. Jordan Belfort (Leonardo DiCaprio) starts from the bottom, creates his own company, works his way up and becomes a multi-millionaire in the process. Of course, none of it was legal. Never have I seen so many drugs in one movie – how none of these guys are dead in real life is beyond me. Scorsese really outdid himself this time, taking the number two spot of most used f-bombs in a film (losing out to a documentary about the word). Remember, this is the man who brought you Casino and Goodfellas. Plus I didn't even know it was possible to have that many naked people in one movie, but I guess when you have the Scorsese/DiCaprio team anything is possible.
the directing: Martin Scorsese
the writing: Terence Winter
the force: Leonardo DiCaprio as "Jordan Belfort"
best moment: Popeye/cocaine juxtaposition.
4.  12 Years a Slave
I remember rushing home right after the screening eager to write my review. Steve McQueen's style had been a favorite of mine for quite a while, putting the release of 12 Years a Slave on my top-priority list. Anyways, I finally got home, probably opened myself a beer, and got my computer all nicely situated. Then something strange happened, I had nothing. My mind went absolutely cold, my fingertips couldn't create any words. For I felt those words had to be perfect, they needed to communicate something special, something worthwhile. And so, I never wrote it. That has never happened to me before. When push came to shove, this film left me speechless.
the directing: Steve McQueen
the writing: John Ridley
the force: Chiwetel Ejiofor as "Solomon Northup"
best moment: "I will survive! I will not fall into despair!"
3.  Gravity
Normally I hate 3D. I could rant about my hatred for days, but luckily Gravity is the exception. It was the one time I actually recommended people go see it in that format. For some reason the film just made it work, probably because Alfonso Cuarón knew what he was doing. Thrilling hardly scratches the surface as things are constantly going wrong and everything imaginable is getting destroyed. The CGI work is masterful, quite honestly the best I've seen. If you want to talk Oscars, here's your film. From what I can tell, this film has a lock on everything visual. Ms. Bullock will most likely get a Best Actress nod, and Cuarón will be fighting McQueen for Best Director. Best Picture? Who knows. But trust me, this film's pretty good.
the directing: Alfonso Cuarón
the writing: Alfonso Cuarón & Jonás Cuarón
the force: Sandra Bullock as "Ryan Stone"
best moment: Debris field's second pass.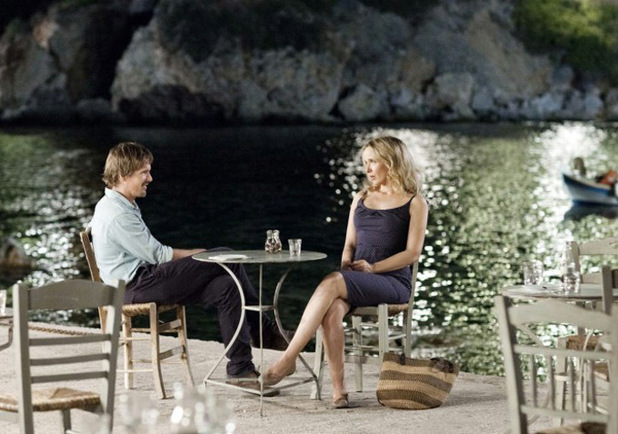 These characters will forever remain in my heart whenever I'm writing, thinking, or creating. It's been a long road these two have taken me down, and one I will surely miss. Linklater's Before trilogy spanned eighteen years, which means the sequels must be damn good. And assuming this was the last one, his final send off needed to be something special. Before Midnight is basically made up of four or five scenes. The first time we see Celine (Delpy) and Jesse (Hawke) together is a fifteen minute continuous shot of them driving. I understand how that sounds kind of boring, but I was fully prepared for the entire film to be just that one shot. The writing collaboration between Linklater, Delpy, and Hawke simply put, is genius. This film will never fail to inspire.
the directing: Richard Linklater
the writing: Richard Linklater, Julie Delpy & Ethan Hawke
the force: Julie Delpy as "Celine" & Ethan Hawke as "Jesse"
best moment: The fight.
the directing: Destin Cretton
the writing: Destin Cretton
the force: Brie Larson as "Grace"
best moment: Jayden's story.